There are still problems on DTT. Many citizens report that they are no longer able to see Tg Their own region on me RAI 3. A common annoyance that many face after the completion of the rearmament process across Italy.
Currently there is no longer any broadcaster supported by the old 700MHz band. In fact, all national and regional broadcasters have moved to the new band 700MHz. A mandatory step to receive the new broadcast standard DVB-T2.
Back to the problem due to receipt Regional TG From another region except your own, it is first necessary to see if the devices are compatible with the new region DTT. Otherwise it is necessary to purchase the latest generation.
Without changing your TV, if it is still working and in good condition, you can save money by choosing a decoder. on me Amazon There are many products on offer. We recommend placing a file DVB-T2 Stick Kingbox Decoder For only €21.98, instead of €39.99.
Its peculiarity is that it is installed behind the TV, and does not take up space. Moreover, although small sizeslightly larger than the Pen Drive, its TV tuner is so powerful that it ensures reception of all channels even in the most difficult conditions, and automatically sorts them according to LCN National Numbering.
Digital Terrestrial Broadcasting: How to Go Back to Watching Your Region's News on RAI 3
It's different, on the other hand, if you already have a device compatible with the new one DTT. In this case, it will be necessary to turn on the set-top box or TV to update the channel list and select Regional programming desired.
In practice, it happens that during the update of channels, the device independently selects which regional programs will be associated with the channel RAI 3. So, one way to fix this is to start a file Auto reset from channels DTT.
After a few minutes, during which the device is busy searching for and updating TV channels, the various channels will be selected Regional programming Available for that area. There is usually more than one when you are at the border with other regions or counties.
Then, it will be up to the user to choose the desired one from those displayed by the set-top box or TV. Basically, during the whole reset process it will be necessary to be physically present and then choose, among those suggested, Regional Program benefit.
If nothing appears at the end of this procedure, the user himself will have to associate a regional program with RAI 3 through Manual Reset from channels DTT. When it starts, it will then have to move a file TGR RAI 3 Desirable, available in numbers ranging from 801 to 823 (shown in the image below), is at number 3 on the remote control.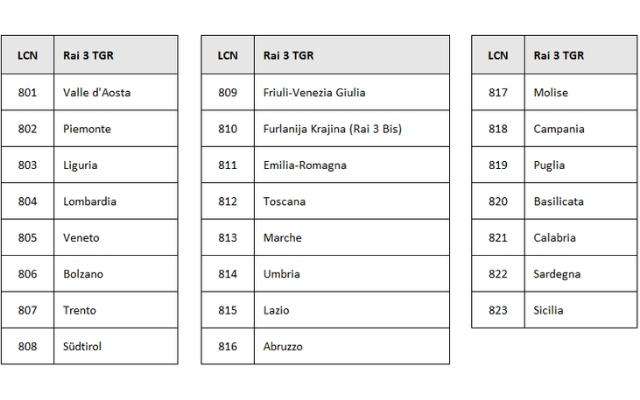 This article contains affiliate links: Purchases or orders placed through these links will allow our site to earn a commission. Offers may be subject to price changes after publication.